05 Oct

To Weave the Sky: Textile Abstractions

To Weave the Sky: Textile Abstractions from the Jorge M. Pérez Collection celebrates numerous textile-based works from the Pérez collection – many of which have never been publicly exhibited before – and engages these acquisitions as focal points from which to structure creative dialogues with artworks presented in other mediums. Featuring works from over 100 intergenerational artists from around the world, To Weave the Sky is inspired by weaving's traditional ties to abstraction and geometry, landscape and the organic, tactility and intimacy, and indigenous cosmologies and ritual. Curated by Tobias Ostrander in close dialogue with curators of the Pérez Collection, Patricia M. Hanna and Anelys Alvarez, the show attempts to uncover contemporary fascination with the medium – one that has been historically marginalized to the genre of craft within Western art contexts.

Admission is free of charge.
Walk-ins welcome or book your appointment online.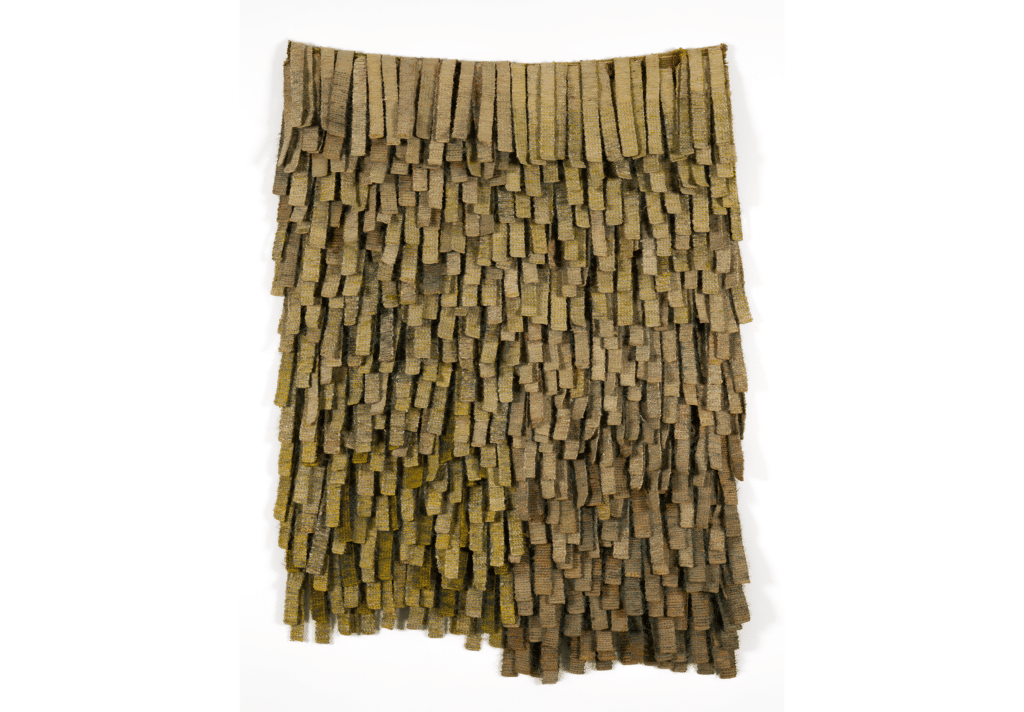 Magdalena Abakanowicz
Igshaan Adams
Etel Adnan
Candida Alvarez
Ghada Amer
Leonor Antunes
Polly Apfelbaum
Alberto Arboleda
Kader Attia
Sanford Biggers
Alighiero Boetti
James Brown
Carlos Bunga
Bisa Butler
Vivian Caccuri
Tania Candiani
Leyla Cárdenas
Carlos Castro
Nick Cave
Carolina Caycedo
Elizabet Cerviño
Gabriel Chaile
Manuel Chavajay
Yanira Collado
Gene Davis
Olga de Amaral
Jorge Eielson
Ayan Farah
Francisco "Taka" Fernández
Helen Frankenthaler
Bernard Frize
Ana Gallardo
Ximena Garrido-Lecca
Sam Gilliam
Mathias Goeritz
Sonia Gomes
Elsa Gómez
Juliana Góngora
Maria A. Guzmán Capron
Dan Halter
Al Held
Sheila Hicks
Patrick Dean Hubbell
Irene Infantes
Paul Jenkins
Alfred Jensen
Kapwani Kiwanga
Abdoulaye Konaté
Lee Krasner
Guillermo Kuitca
Teresa Lanceta
Lawrence Lemaoana
Artur Lescher
Ellen Lesperance
Reynier Leyva Novo
Daniela Libertad
Laura L Lima
Ibrahim Mahama
Esther Mahlangu
Wallen Mapondera
Conrad Marca-Relli
Teresa Margolles
Nacho Martín Silva
Suchitra Mattai
Gisela McDaniel
Ad Minoliti
Małgorzata Mirga-Tas
Joan Mitchell
Robert Motherwell
Aurèlia Muñoz
Christopher Myers
Maria Nepomuceno
Ernesto Neto
Natasza Niedziółka
Kenneth Noland
Markus Oehlen
Tomie Ohtake
Nnenna Okore
Eamon Ore-Giron
Bernardo Ortiz
Angel Otero
Oscar Abraham Pabón
César Paternosto
Philip Pearlstein
Karina Peisajovich
Nohemí Peréz
Larry Poons
Gala Porras-Kim
Robin Rhode
Faith Ringgold
Arnaldo Roche Rabell
Belén Rodríguez
Abel & Aycoobo Wilson Rodríguez
Carlos Rojas
Fanny Sanin
Yinka Shonibare
Elias Sime
Frank Stella
Eduardo Terrazas
Wolfgang Tillmans
Frances Trombly
Gastón Ugalde
Johanna Unzueta
Rubem Valentim
Joana Vasconcelos
Antonio Vega Macotela
Adrián Villar Rojas
Alice Wagner
Summer Wheat
Pae White
Stanley Whitney
Michaela Younge
Francisco Zúñiga